Deer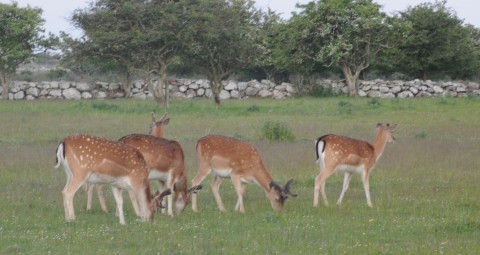 The area around Ottenby Royal Park has been settled since the late Iron Age. From the 13th century the land was owned by monks but during the Swedish Reformation under King Gustav Vasa [1529] the property of most monasteries was appropriated by the state. And so it went with Ottenby.

Gustav Vasa declared Ottenby to be henceforth a royal park.
King Johan III introduced fallow deer from England to Öland in 1569. Hunting came to be concentrated in the southern tip of the island and eventually King Carl X had a drystone wall built across the island from east to west. This not only provided a boundary for the private deerpark but was also a symbol of royal power.

The fallow deer you can see on Öland today are descended from the original introduced herd.